UK J/24 Class 2013 – June Newsletter
Posted 06 June 2013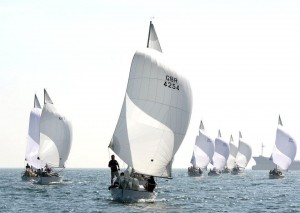 J/24 Southerns @ Poole the last weekend of May saw Madeleine make it two from two in the 2013 UK J/24 events…. there is a full report on the J/24 class website – https://www.j24class.org.uk/
UK J/24 Nationals @ Plymouth – 4 to 7 July – Entry Form on class website… we are up to 20 confirmed entries (including 4 Westerley's) and are expecting several more but if you haven't done so already we need you to enter now to help build momentum and persuade any undecided teams to come along. There is an Online Entry system from SailRacer at http://enter.sailracer.org/events/enter-v2rya.asp?eventid=174356 so you don't even need to move to sign up…. This combined with the UKJCA offer to provide free berthing for visiting boats makes it a great value event which should offer fantastic competition throughout the fleet.
J/24 Class AGM and Coaching Clinic from Mike Ingham – The class AGM will be held at the RWYC on Saturday 6th July at 5.30pm and anyone interested is welcome to come along, Mike Ingham from North Sails, who has placed in the top teams at the last 4 World Championships, has agreed to give a coaching clinic as part of the session, hopefully helping us all get a little more on the pace….
The majority of the UK teams allocated a berth for the World Championships in Howth have now confirmed their entry, however due to a J24 baby boom we may be able to free up a place if any other teams would like the opportunity to test themselves against the best of the best, if so please let me know…
Finally following the decision by the IJCA not to pass the rule change to allow 2 spinnakers to be carried at international events – the UK class is still running with the option as can be seen in our UKJCA prescription within the documents section of the class website – Chris Mclaughlin and the Il Ricco team have requested to the race management that they seek a similar NOR amend for the worlds in Howth due to the logistics of distance between sailing area and base meaning gear failure could severely impact a campaign. Chris has requested that any other competitors who feel similarly also send a similar request as a weight of demand may persuade a venue specific change…
Any news or views for the J/24 world please give me a shout.
Happy sailing
Rob – JUJU – GBR 4254
07967 563 237