Quantum Loop Solutions J/24 Worlds at Rochester Yacht Club – Day 3
Posted 20 September 2012
Quantum Loop Solutions J/24 Worlds at Rochester Yacht Club – Day 3 by Chris Howell, 20 September 2012
Photo © Rochester Yacht Club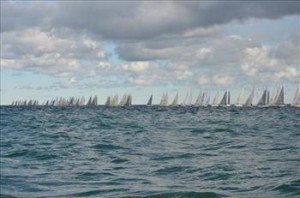 Quantum Loop Solutions J/24 worlds at Rochester day 3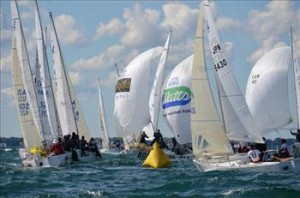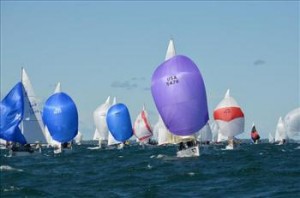 17-21 September 2012
41 points lead for Mauricio Santa Cruz on Bruschetta
Three days into the week-long J/24 World Championship at Rochester Yacht Club in New York, and Mauricio Santa Cruz of Brazil has taken dominant control of the 96-boat fleet. Team Bruschetta has held the lead on each day of the event so far, and has now opened up a 41-point advantage with just three races to go. A throw-out took effect on Wednesday, and Santa Cruz dropped a 13, leaving him with all top 10 finishes in the seven races thus far. Following him in the standings to date are American Mike Ingham who shot into second place, and a tie for third between Frithjof Schade's JJone (Germany) and Rossi Milev's Clear Air (Canada) with 67 points each.
In the day's first race, Ingham took top honors on 11th Hour Racing, with Nicolas Cubria's Elvis of Argentina second and Pat Toole's 3 Big Dogs of the USA in third. Race 2 saw another American in first—Will Welles's Cougar. Matias Seguel's Guru of Chile and Ignazio Bonanno's La Superba of Italy trailed Welles. In the third bout, Mauricio Santa Cruz ended the day on a positive note, as did Americans' Ingham in second and Darby Smith in third.
Winds on Lake Ontario started at 12-14 knots, then built to 18 for most of Race 1, decreased slightly in Race 2, then dropped to 5-7 knots in the final race. Swells lingered from the previous night's storm throughout the day.
Racing continues through Friday, and 10 total races are planned. Live updates will be available all week at www.2012j24worlds.com.
The 2012 J/24 World Championship is title-sponsored by Quantum Loop Solutions and platinum-sponsored by Piehler Land Rover and Jaguar, Shumway Marine, and Miller Coors. The J/24 Class and the Rochester Yacht Club are proud to be partnered with these companies and thank them for their support.