Quantum Loop Solutions J/24 Worlds at Rochester Yacht Club – Day 2
Posted 19 September 2012
Quantum Loop Solutions J/24 Worlds at Rochester Yacht Club – Day 2 by Chris Howell, 19 September 2012
Photo © Rochester Yacht Club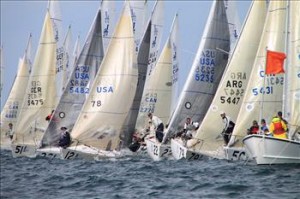 Quantum Loop Solutions J/24 worlds at Rochester day 2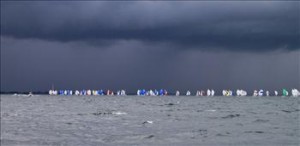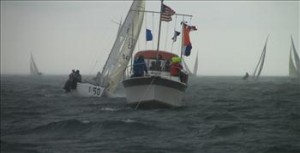 17-21 September 2012
Mauricio Santa Cruz on Bruschetta extends lead
Mauricio Santa Cruz on Bruschetta held his spot on the top of the leader board on day 2 of the Quantum Loop Solutions J/24 World Championship at the Rochester Yacht Club in New York. Bruschetta from Brazil scored a 9 and a 1 on Tuesday for a total of 18 points after two days racing. Luis Olcese on Scaramoush from Peru is in second overall with 41 points, and Frithjof Schade on JJone from Germany has 43 points in third place.
In the day's first race, Mike Marshall on TBD claimed the top spot, followed by Tony Parker on Bangor Packet and Paul Scalisi on Rabit Cson Duck Cson. In Race 2 Mauricio Santa Cruz on Bruschetta of Brazil crossed the finish line first. Rossi Milev on Clear Air was second and Matias Seguel on Guru trailed him.
Conditions on Lake Ontario started at 4-6 knots and settled in at 10 to 12 for race two and as high as 18 to 20 knots for a short time in a squall at the end of Race 2.
Ninety-six teams from 12 countries (Argentina, Barbados, Bermuda, Brazil, Canada, Chile, France, Germany, Italy, Japan, Peru and the United States) are participating in the event. Racing continues through Friday, and 10 total races are planned. Live updates will be available all week at www.2012j24worlds.com.
The 2012 J/24 World Championship is title-sponsored by Quantum Loop Solutions and platinum-sponsored by Piehler Land Rover and Jaguar, Shumway Marine, and Miller Coors. The J/24 Class and the Rochester Yacht Club are proud to be partnered with these companies and thank them for their support.