Last Call for the UK J/24 National Championship
Posted 01 July 2013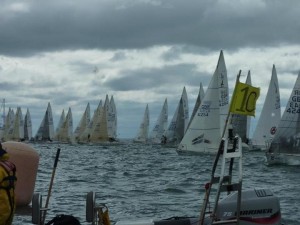 With a few days to go the J/24 fleet are converging on Plymouth for the UK J/24 Nationals to be run from the 4th to 7th July in association with the Atwell Martin Plymouth Race Week.
25 teams have entered including the reigning UK, Irish and US National Champions, past National and European champions, an all female team skippered by London 2012 Laser Radial sailor, Alison Young, and a youth team from Ireland using the event to test their pace against a top field in advance of the upcoming J/24 World Championships, making selecting a pre event favourite a very hard call.
This should make the 2013 UK National Championship title event another very closely contested affair – the 2012 title was decided by 1 point – and with the fleet regularly crossing the finishing line within seconds of each other every team will have an impact on results and the eventual winner will be pushed until the very end.
The J/24 Nationals will be able to be followed and reviewed online thanks to the TackTracker units provided by SailRacer that will be carried on each boat with daily results and roundups available through the event website www.plymouthraceweek.org