J/24 North American Championship at The Florida Yacht Club – Overall
Posted 18 November 2012
John Mollicone's 11th Hour Racing earns the title by Chris Howell, 14-17 November 2012
Photo © Tim Wilkes / www.timwilkes.com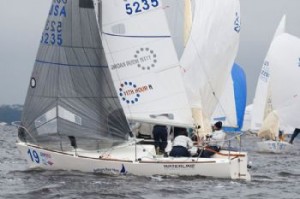 John Mollicone of 11th Hour Racing wins the 2012 J24 North American Championship
John Mollicone's 11th Hour Racing team emerged victorious at the J/24 North American Championship in Jacksonville, FL. Comprised of Mollicone, Tim Healy, Collin Leon, Geoff Becker and Gordon Borges, the Newport team credited their consistency and team work during the nine races as the keys to their success. "We had good starts, and our boat speed was good," summarized Mollicone. "It's hard to be in the right place all the time tactically, but our boat speed helped us get out of some tough situations."
Finishing with 30 points overall, 11th Hour Racing won the regatta's first contest, and never finished out of the top 10. "We wanted to make sure we didn't have any real deep races, especially early on," shared Healy. "It ended up paying off late in the regatta. We could afford going into the last race knowing we couldn't get worse than second, so that was a nice place to be."
Canadian Rossi Milev sailed an impressive regatta on Clean Air, and placed in second overall with 34 points including three bullets. Travis Odenbach's Honey Badger rounded out the top three.
Conditions in Jacksonville on the last day of the event were the breeziest of the week at 16-18 knots with gusts in the 20s. "This is a challenging place to sail because it's not only shifty but there are a lot of holes and you have the current factor," Mollicone said. "Tricky conditions, but the people at Florida Yacht Club are awesome and it was a great regatta." On Saturday, Milev won race 7, with Greg Griffin's Majic and Odenbach in the next two slots. David Van Cleef claimed the next victory, trailed by Mollicone and Odenbach. Milev returned to the top in the event's final bout, and Van Cleef and Griffin followed.
The top 10: John Mollicone (30 points), Rossi Milev (34), Travis Odenbach (40), Peter Bream (41), Mike Ingham (43), Carter White (44), David Van Cleef (45), Greg Griffin (63), Robby Brown (65), John Denman (74).
Twenty-nine teams competed at the Florida Yacht Club. Complete results are available at www.j24northamericans2012.com